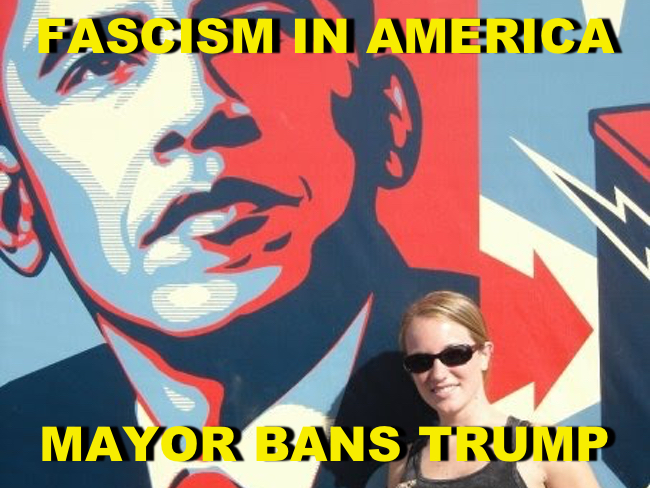 ELDER PATRIOT – It was just a matter of time before an elected Leftist would move to ban dissenting political opinion.  That time is here and that person is West Hollywood Mayor Lindsey Horvath who has barred Donald Trump from holding any rallies in the city that she was elected to oversee.  Horvath has essentially given the middle finger to free speech advocates on both sides of the political aisle.
She accused Mr. Trump of spewing "hate speech and violent rhetoric," and used this as her justification to impose her political will on the people of West Hollywood.
Horvath instructed city staffers that they had the right and the obligation to deny Mr. Trump the permits necessary to gather within their jurisdiction.  Dictators everywhere are applauding.
Mr. Trump is the runaway leader among Republicans nationwide and is currently leading in polling in Horvath's state of California.  She is essentially shutting down political debate in her town and using her elected position to influence the presidential election by denying her constituents their rights to hear Mr. Trump speak in person as well as Mr. Trump's right to be heard.  In this way, she is behaving more like the few dozen agitators who blocked the approach to a Trump rally in Arizona than a person who is sworn to uphold both the U.S. and California Constitutions:
United States Constitution:
Amendment I
Congress shall make no law respecting an establishment of religion, or prohibiting the free exercise thereof; or abridging the freedom of speech, or of the press; or the right of the people peaceably to assemble, and to petition the Government for a redress of grievances.
California Constitution:
ARTICLE 1 DECLARATION OF RIGHTS
SEC. 2.  (a) Every person may freely speak, write and publish his or her sentiments on all subjects, being responsible for the abuse of this right. A law may not restrain or abridge liberty of speech or press.
SEC. 3.  (a) The people have the right to instruct their representatives, petition government for redress of grievances, and assemble freely to consult for the common good.
Horvath's pre-emptive action is illegal under the legal precept of prior restraint.  She is a Democrat so perhaps that shouldn't surprise us. 
Coupled with the arrest and charges having been brought against Mr. Trump's campaign manager by Palm Beach County (home of the hanging chads) Democratic prosecutor Dave Aronberg (prominent Clinton supporter) for what amounted to incidental contact (according to virtually every lawyer who witnessed video of the incident,) it shows how desperate the Democrats are to shut down Mr. Trump's campaign message that is threatening their carefully scripted narrative that is underscored by political correctness that has delivered America to the brink of collapse.
Mayor Horvath was unavailable for comments on her reason that she didn't also ban the Pink Panthers (militant gay rights group,) Black Lives Matter, Moveon.org, or La Raza and the many other militant Latino "rights" groups at the same time.