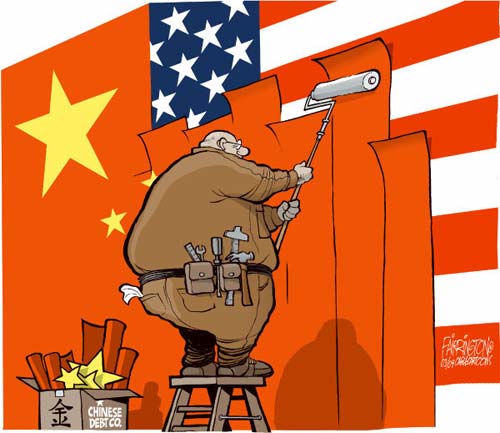 On Nov. 13, the Vice-President of Argentina publicly announced his support for the Chinese currency and called for accelerated plans to internationalize the Yuan in global trade.  And in a statement where Amado Boudou mimicked Christine Lagarde's support for the RMB to be added to the IMF's SDR program, the Argentinian VP called for the Yuan to compete with the dollar to 'change the global financial order', and end the single polar reserve currency system that has reigned for more than seven decades.
Argentina joins a growing list of nations calling for an end to dollar hegemony, as direct bi-lateral trade programs continue to grow and replace the long-standing policy of using the U.S. currency as a medium of exchange for nearly all international trade.
Argentine Vice President Amado Boudou on Friday called for speeding up the internationalization of the Chinese yuan or renminbi (RMB), and urged the International Monetary Fund (IMF) to include the Chinese currency in its Special Drawing Right (SDR) basket.

Boudou, who also leads the Argentine senate, made the statement during a meeting withHe Ping, editor-in-chief of China's Xinhua News Agency.

"We must change the global financial order. China and Argentina have always been firm indefending the consumption capacity of their populations," he said.

Boudou added that it was essential that the IMF "accept the yuan in its basket of currencies", and that "countries must be able to trade using their own currencies. We should not accept having to pay in the U.S. dollar." – EN.People.CN
The dollar's function as the global reserve currency has been corrupted over time as the U.S. began implementing policies to devalue the currency following the 2008 Credit Crisis.  In addition, Washington has misused its power over the global reserve by using the dollar as an economic weapon, and destroying economies through the implementation of sanctions against any and all countries it was in opposition to.
Argentina has been one of many country's over the past 30 years that have felt the brunt of the West's hegemony over the reserve currency, and from institutions like the IMF that aided Washington's foreign policies by destroying economies and nations who opposed them.  And as China continues to create, and in many cases duplicate, the financial infrastructures of the West, the Argentinian government sees today as a ripe opportunity for calling for an end to the dollar as the sole global currency, and bring about a new financial order that includes the Yuan as a viable alternative to the dollar.
Kenneth Schortgen Jr is a writer for Secretsofthefed.com, Examiner.com, Roguemoney.net, and To the Death Media, and hosts the popular web blog, The Daily Economist. Ken can also be heard Wednesday afternoons giving an weekly economic report on the Angel Clark radio show.