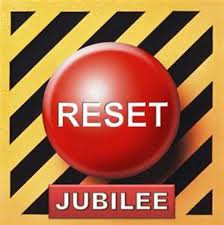 June 24 was not only a red letter day for Britain, the European Union, and the global financial system, it was also a important numerological day in the Shmitah year calendar.  That is because the day the British people voted to take back their sovereignty and leave the EU, it was exactly 7 years, 7 months, 7 weeks and 7 days since September 29, 2008… the day the U.S. stock market crashed by 777 points.
Yet while this may be a 'coincidence' to many who do not place significance in numerology, biblical prophecy, or events being tied to astrological and mystical periods, do not forget that it was one of the world's top financial elites, one Christine Lagarde (head of the IMF), who gave an unusual speech two years ago talking about the importance of dates and numbers, and in particular, the number 7.
In 2014, Christine Lagarde gave a speech on "the magic number 7."  It, along with work by Jonathan Cahn, led us to the Shemitah seven-year cycle and the Jubilee year, which the globalist elites are well aware of.

What we've discovered since is that there is even more to the "magic number 7" than just years… it appears to correlate right down to months, weeks and days.

The last major market crash occurred on September 29, 2008.  On that day, the Dow Jones fell 777 points, of all numbers…. its biggest one day point drop ever.

On Friday, in the aftermath of Brexit, the Dow fell over 600 points.  What's interesting about Friday's date?

It was 7 years, 7 months, 7 weeks and 7 days since September 29, 2008. – Dollar Vigilante
Yet perhaps there is another significant event which is now taking place following the Brexit vote on June 24.  And that is that eight nations immediately began their own push for a referendum out of the EU, and this too is a vital part of the Jubilee year which occurs once every half century.
You shall count off seven Sabbaths of years, seven times seven years; and there shall be to you the days of seven Sabbaths of years, even forty-nine years. Then you shall sound the loud trumpet on the tenth day of the seventh month. On the Day of Atonement you shall sound the trumpet throughout all your land. You shall make the fiftieth year holy, and proclaim liberty throughout the land to all its inhabitants. It shall be a jubilee to you; and each of you shall return to his own property, and each of you shall return to his family. That fiftieth year shall be a jubilee to you. In it you shall not sow, neither reap that which grows of itself, nor gather from the undressed vines. For it is a jubilee; it shall be holy to you. You shall eat of its increase out of the field. In this Year of Jubilee each of you shall return to his property.
This is an important data point since until last week's Brexit result, the European Union had usurped much of the sovereign power previously designated to the people of each member state within the coalition.  And to have multiple countries now seeking a 'return of the land', or more specifically, a return of their sovereignty come from what occurred on June 24, the end result is that Britain's vote to leave the EU is part of a global frequency change that is just beginning to manifest in the year of Jubilee.
Kenneth Schortgen Jr is a writer for Secretsofthefed.com, Examiner.com,Roguemoney.net, and To the Death Media, and hosts the popular web blog, The Daily Economist. Ken can also be heard Wednesday afternoons giving an weekly economic report on the Angel Clark radio show.