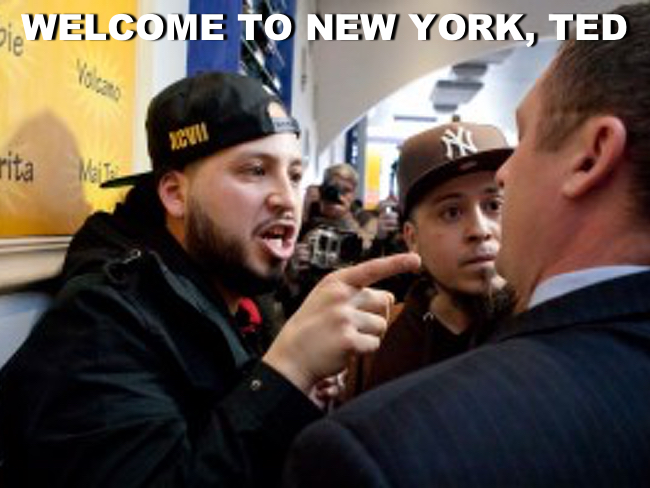 ELDER PATRIOT – Welcome to the party, Ted. It's one thing to be trashing Donald Trump in the Mid-west where people desperately want to believe you but it's an entirely different thing when you find yourself playing a road game in the Big Apple.
In a city of 8.5 million people, Ted Cruz was only able to attract a couple of dozen of them to attend his campaign event in the Bronx. Even then, two of the attendees turned out to be protestors. It must be your tone that they don't appreciate, Ted.
This certainly puts Trump's filled stadiums throughout America where he was mostly playing road games in proper perspective.
Now it's New Yorkers turn to show their values and Mr. Cruz found out today how much they value truth from their politicians.
There were more flies in the room than supporters when Cruz got up to talk. That's because straight-shooting New Yorkers see right through Lyin' Ted.
In contrast, Trump had 18,000 ticket requests for his rally on Long Island that just concluded.
Lyin' Ted surely won't want to hear that there were more protestors at the Trump rally than the meager 22 supporters that showed up for him. Not only were there 100 protestors but a like number of Trump supporters stayed close by displaying the New York values that I grew up with – always protect your own.
There's even more bad news for Ted. The latest poll released earlier today shows Donald Trump leading him 52% to 17%. So much for the momentum Lyin' Ted promised his supporters following his win in Wisconsin last night. Only a fool would've believed that New Yorkers would take their lead from Wisconsinites.
Cruz will probably leave New York without gaining a single one of the 95 delegates in play and wind up being eliminated in the race for 1237.
How's that for New York values?