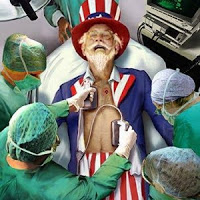 A new report came out on Feb. 1 showing that the national debt has now crossed over $19 trillion, making it extremely likely that the U.S. will end Obama's term in office with a debt obligation of over $20 trillion.  And with Congress simply abrogating their duties and giving the government carte blanche authority to borrow and spend as much as they want, whomever wins the Presidency this November will automatically come into office under a dual crises of recession and insolvency.
Right now the U.S.'s debt to GDP ratio is over 104%, meaning the country owes more in liabilities than it produces in annual revenue.  And for any entity but the Federal government, this would mean instant insolvency and the need for a declaration of bankruptcy.
Two months ago, when we calculated that the US would need a new "debt ceiling" of $19.6 trillion to last until after Obama's tenure, we may have been too optimistic: since the increase in the hard debt limit of $18.15 trillion which was raised at the end of October, the US appears to be growing its debt at a far faster pace than we had originally expected, and according to the latest public debt data, as of the last day of January, total US debt just hit 19,012,827,698,417.93.


This means that if the nominal US GDP as of December 31 which was $18.12 trillion grows at the 1.2% rate expected by the Atlanta Fed, total debt to GDP is now on pace to hit 105% at the next GDP tabulation, and rising fast from there.

It also means that since his inauguration in January 2009, the US debt has now risen by a whopping 78.9%, or $8.4 trillion. It was $10.6 trillion when Obama came into office.

Indicatively, the Congressional Budget Office forecasts that the national debt will hit $22.6 trillion by 2020 and will rise to $29.3 trillion by 2026. – Zerohedge
Very few of the candidates running for President have spoken out on reducing the budget, with Senator Ted Cruz on the Republican side being the most vocal to bring about budget cuts and trim spending.  And if either Hillary or Sanders should win the White House, both are expected to expand the government immensely with increases to healthcare, education, and welfare.
Barack Obama has touted the fallacy that his administration has cut the deficit during his terms in office, but cutting the amount of debt one accrues each year does nothing towards paying down the overall debt that has nearly doubled during his seven years in office.  And with Republicans and Democrats in Congress both willing to spend like drunken sailors, the CBO's estimate of a national debt of around $30 trillion 10 years from now seems more short-sighted by the day, and may even come to America by the end of this decade.
Kenneth Schortgen Jr is a writer for Secretsofthefed.com, Examiner.com, Roguemoney.net, and To the Death Media, and hosts the popular web blog, The Daily Economist. Ken can also be heard Wednesday afternoons giving an weekly economic report on the Angel Clark radio show.