With China, Russia, and the BRICS nations making tremendous strides over the past year in free trade and economic cooperation, the United States has countered with a secret trade agreement called the Trans-Pacific Partnership (TPP).  This trade treaty, which was fast tracked by Congress just a few weeks ago, is a last ditch effort by Washington to keep a tight control over the remaining countries supporting dollar hegemony.
However, since many of the largest economies in Asia are already part of the SCO and ASEAN coalitions, the U.S. is being forced to lower standard requirements just so they can get a few more countries into their trade bloc.  And this even includes falsely upgrading Malaysia to a tier 2 country despite their record as a human trafficker, and their protecting international traffickers when mass graves were found holding bodies of migrants who were kidnapped for ransom.
Earlier this week, we wrote about a troubling move by the US State Department to "upgrade" Malaysia from a "tier 3″ country to a "tier 2″ country regarding human trafficking. This move came despite a near total lack of evidence of any improvement by Malaysia. In fact, just two months ago 139 mass graves were discovered for migrant workers who had been trafficked and/or held for ransom. And the US ambassador to Malaysia had publicly criticized the country for failing to tackle its massive human trafficking problem.

So why would the State Department magically upgrade Malaysia? Well, because of a tiny provision in the fast track "Trade Promotion Authority" deal that Congress recently passed. It noted that fast track authority would not apply to trade deals involving countries that were categorized as "tier 3″ by the State Department. In other words, this should have given the US tremendous leverage to push Malaysia to really tackle the problem. Instead, because it appears that the administration is so focused on getting the TPP officially finished and ratified, it got the State Department to just magically upgrade Malaysia, and effectively spit on the graves of those murdered migrant workers. – Liberty Blitzkreig
The TPP is a final straw by the elite to keep the economic hegemony of the U.S. empire going, and to raise multi-national corporations to near sovereign status.  In fact, from what is known from the agreement through Wikileaks releases, TPP has little at all to do with trade and more to do with political and economic hegemony, forcing nations who sign to fall under the authority of corporations who can mandate policy and political direction over their governments.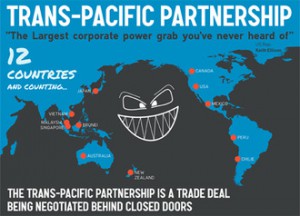 For years bureaucrats and ideologues in Washington have chosen which governments to sanction, and which to promote, even if two similar nations fell under the same designation of being terrorists or international criminals.  And as we saw for more than a decade in Iran and Libya, the U.S. will use its force to either destroy a nation economically or militarily, while at the same time ignoring or promoting countries like Saudi Arabia and now Malaysia for doing very similar acts of violence.
As the dollar and the U.S. empire draws towards a close, its willingness to condone atrocity, terrorism, and even mass murder is prevalent in its desire to hold onto global power just a little bit longer.  And just as evidence has shown that while under one administration we hunted down Al Qaeda, and in the next we funded and armed this same group, it is no longer surprising that America is willing to overlook human trafficking just so they can get a country to sign on with a draconian trade agreement.
Kenneth Schortgen Jr is a writer for Secretsofthefed.com, Examiner.com, Roguemoney.net, and To the Death Media, and hosts the popular web blog, The Daily Economist. Ken can also be heard Wednesday afternoons giving an weekly economic report on the Angel Clark radio show.