ROMNEY WORDSWORTH – #10)  Professional Snuggler.  This job requires you to provide snuggling, spooning, and hugs to clients with an acute deficit of and need for human contact.  Average pay is $60.00 an hour.
#9)  Paper Towel Sniffer.  This job requires you to smell paper towel products (including toilet paper) for manufacturers to ensure that the product does not have any bad odors that would turn off consumers or require a product recall.  Average pay is between $19,000.00 to $52,000.00 per year.
#8)  Crime Scene Cleaner.  Crime scenes can be messy, gory, and just plain gross, with blood spatters on walls, ceilings, and floors.  And that's just the easy stuff!  Shootings and suicides can involve having to scrape brains off of walls or furniture, and of course, patching bullet holes in sheet rock.  Crime scene cleaners clean, disinfect, repair and replace interior areas back to their pre-crime pristine condition after law enforcement agencies are done with collecting evidence.  Crime Scene Cleaners make an average of $50,000.00 per year.
#7)  Food Stylists.  A Food Stylist has a creative job to make food look its best and most appealing in TV commercials, print ads, and even plasticized versions of the real thing (popular in Asian restaurants).  A Food Stylist can average between $33,000.00 to $58,000.00 per year.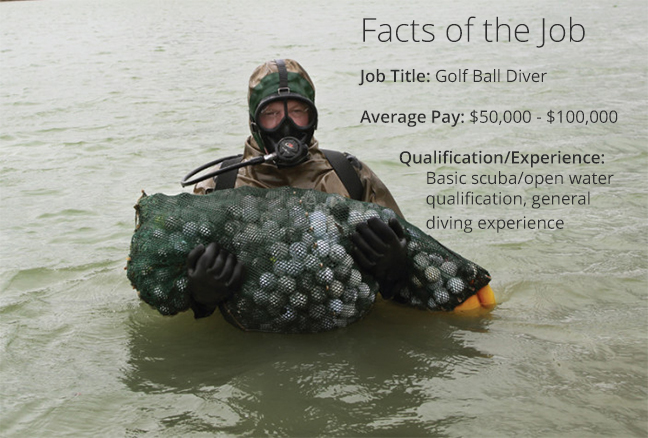 #6)  Golf Ball Diver.  Country Clubs and Golf Courses with water hazards employ scuba divers to recover thousands of golf balls (and even golf clubs and other articles) every year for refurbishment and recycling.  This job can be a bit hazardous in warmer climates where alligators are known to enjoy making these small bodies of water their homes.    Golf Ball Divers average between $50,000.00-$100,000.00 per year.
#5)  Face Feelers.  Face Feelers work for skin care product companies.  The job duty is simple:  Face Feelers feel the skin of skin care product testers to gauge the improvement to skin softness and suppleness.  Face Feelers average $25.00 per hour.
#4)  IMAX Screen Cleaner.  IMAX screens are gigantic at over 100 feet tall.  All that surface area collects dust, lint, and cobwebs and have to be cleaned on a regular basis in order to keep the IMAX pictures crisp, clean, and clear.  IMAX Screen Cleaners average $45,000.00 per year, with the added benefit of being able to claim that you work in the movie industry.
#3)  Pet Food Tester.  If you thought that pet food companies used dogs to test dog food and cats to test cat food, you'd only be partially correct.  Pet food companies also use people to taste test pet food, because only humans can articulate the kind of feedback that manufacturers want to know regarding things like texture, sweetness, and savoriness.   Pet Food Testers average $40,000.00 per year.  Breath mints not included.
#2)  Water Slide Tester.  If you like working in the sun and having fun, and can find one of these jobs, then this could be a dream come true.  A word of caution, however, is that you are working as a crash test dummy, and the thing being tested is whether or not the water slide design is too extreme for human beings to use repeatedly without getting injured.  But if adrenaline thrills and the feeling of weightlessness in the pit of your stomach is for you, then you can average earning $32,000.00.  A good medical plan is recommended.
#1)  Sex Toy Tester.  Dildoes.  They come in all sorts of sizes, textures, and moving parts.  Before committing to a production run of thousands or even millions, sex toy manufacturers need a few good women to get on and ride that horse, so to speak.  These jobs are rare, and one of the weirdest jobs for an adult, but if you can land one, you can earn an average of $39,000.00 per year while working from home.