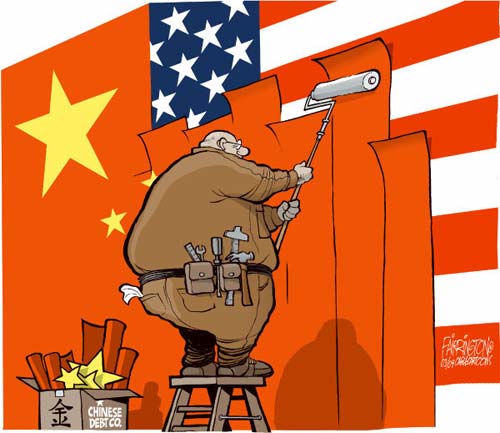 Since the 1990's, central bank policy has been to create monetary environments that build financial bubbles to make the economy look much better than it actually is.  And just as we recently saw where Fannie Mae is engineering a modified resurrection of sub-prime lending to boost the current housing bubble even further, the government is also jumping on the bandwagon by lowering a 35 year old tax rule that kept out foreign investors from buying up American property.
Known as the 1980 Foreign Investment in Real Property Tax Act, or FIRPTA, this act had created a disincentive for foreign individuals and institutions to buy property in the U.S., and keep Wall Street investments like REITS from being controlled by offshore entities.  But after passage of the new $1.1 trillion Omnibus spending bill last week, Congress and the President cut this Act to facilitate the inflow of foreign capital to keep the newest housing bubble from bursting.
President Barack Obama signed into law a measure easing a 35-year-old tax on foreign investment in U.S. real estate, potentially opening the door to greater purchases by overseas investors, a major source of capital since the financial crisis.

Contained in the $1.1 trillion spending measure that was passed to avoid a government shutdown is a provision that treats foreign pension funds the same as their U.S. counterparts for real estate investments. The provision waives the tax imposed on such investors under the 1980 Foreign Investment in Real Property Tax Act, known as FIRPTA.

"FIRPTA has historically made direct investment in U.S. property a non-starter for trillions of dollars worth of foreign pensions," said James Corl, a managing director at private equity firm Siguler Guff & Co. "This tax-law modification is a game changer" that could result in hundreds of billions of new capital flows into U.S. real estate.

Foreign investors have flocked to U.S. real estate since the global economic meltdown, drawn by the relative yields and perceived safety of assets from office towers and shopping centers to apartments and warehouses. The demand has helped drive commercial real estate prices to record highs. Many foreign investors structured their purchases to make themselves minority investors and bypass FIRPTA. – Bloomberg
The U.S. economy is desperate for more foreign investment, especially since central banks around the world are dumping Treasuries at a record pace.  In addition, removal of this barrier by the government will in their eyes hopefully lead to an increase in foreign capital at a time when the economy is in a deflationary environment, and where property purchases by Americans sits on the precipice of collapse.
As the U.S. moves forward in an economic policy of live by the bubble, die by the bubble, there is very little room available to stop the inevitable unless they can find new 'suckers' to get into the ponzi scheme.  And because of this, Washington is willing to reverse course and sell out to foreign ownership since the American consumer no longer has the money to keep the current financial bubbles going.
Kenneth Schortgen Jr is a writer for Secretsofthefed.com, Examiner.com, Roguemoney.net, and To the Death Media, and hosts the popular web blog, The Daily Economist. Ken can also be heard Wednesday afternoons giving an weekly economic report on the Angel Clark radio show.