When Bank of America this weekend announced that central banks are involved in 45% of all global bond purchases, it was just another nail in the argument that the entire financial system is simply a debt driven bubble fueled by central bank money printing.  And besides bonds, we already know in most economies that the central banks are the catalyst for most equity buying as well.
So when a large number of high net worth investors and businessmen continue to both do and say get out of stocks, then the risk/reward factor of 'don't fight the Fed' is no longer a motivating driver for investment.
"Someone is getting this information before you."  If you've ever worked at a hedge fund, you know this is the worst thing you can hear.  It means you are behind the curve, providing yesterday's news into an investment process meant to predict the future.  "Titanic sinks!" or "man lands on the moon!" are the more playful retorts you'll get from co-workers.  But it all means the same thing: up your game, or get a white box from the mail room.

So when a cluster of high-profile hedge fund and long-biased managers go out of their way to give dire warnings about the U.S. equity market with stocks sitting at or near all-time highs, any sensible investor needs to pay attention.  These are people with access to information that most market participants could only dream of having.  Former heads of state and central bankers, private intelligence operatives, senior government officials, the best consultants in any industry…  It is like having an all access pass to anything, anywhere, any time.
Here's a partial list of bold faced names that have panned stocks and other financial assets in recent weeks:
Stan Druckenmiller (May 4th at the Ira Sohn Conference): "Get out of the stock market."

George Soros (June 9th, as reported in the Wall Street Journal): "The billionaire hedge fund founder and philanthropist recently directed a series of big, bearish investments, according to people close to the matter."

Carl Icahn (June 9th, on CNBC): "I don't think you can have (near) zero interest rates for much longer without having these bubbles explode on you" while also saying it's difficult to assess when exactly that might occur.

Jeff Gundlach (last Friday, in an interview with Reuters): "Sell everything. Nothing here looks good."

Bill Gross (in his monthly investment letter, released last week): "I don't like bonds. I don't like most stocks. I don't like private equity." – Zerohedge
In addition to these well known and highly successful equity and bond traders, real estate mogul and Presidential candidate Donald Trump last week tweeted out for his supporters to get out of the markets and even to go so far as dump their 401K's now despite the potential penalties and tax obligations that will come from it.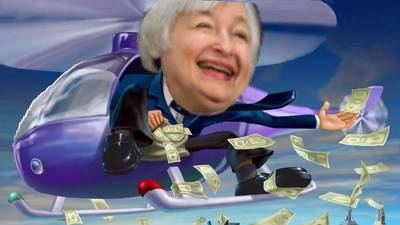 The only possible reasons for stocks to be at their all-time record highs are due to the fact that all central banks continue to pump out cheap money through stimulus which allows them to directly buy market indices, and provide liquidity to banks and corporations to buy back their own shares which make their stock prices go up, and their EPS (Earnings per share) look better on paper.  And in the end, the central banks have given investors a golden opportunity if they so choose to cash out now when the markets are at record highs, rather than try to catch a falling knife which occurred in equities just seven years ago, leaving retirees facing more than 40% shortfalls to their retirement accounts.
Kenneth Schortgen Jr is a writer for Secretsofthefed.com,Roguemoney.net, and To the Death Media, and hosts the popular web blog, The Daily Economist. Ken can also be heard Wednesday afternoons giving an weekly economic report on the Angel Clark radio show.