FINALLY!  DO YOU BELIEVE IN MIRACLES? HOW ABOUT JUSTICE?  THIS IS A GREAT FIRST STEP IN RETURNING ORDER TO THE COURT.  HOW ABOUT A CONSTITUTIONAL AMENDMENT THAT STATES THAT IF A COURT IS OVERTURNED BY THE SUPREME COURT MORE THAN 50% OF THE TIME IT IS DISSOLVED AND RESTRUCTURED WITH NEW JUDGES.  JUST A THOUGHT …
YC The 9th Circuit Court of Appeals has been in the news of late with the activist decision against President Donald Trump's travel ban.
But for those familiar with it, it's been a problem for years.
The 9th Circuit is perhaps the most liberal federal court of appeals in the country.
But beyond that, the size of the area that it covers is massive, the caseload unwieldy and the number of its decisions that are overturned by SCOTUS is also well-knowned.
Here's a map of the various circuits, 1-11, and you can see how huge the 9th is.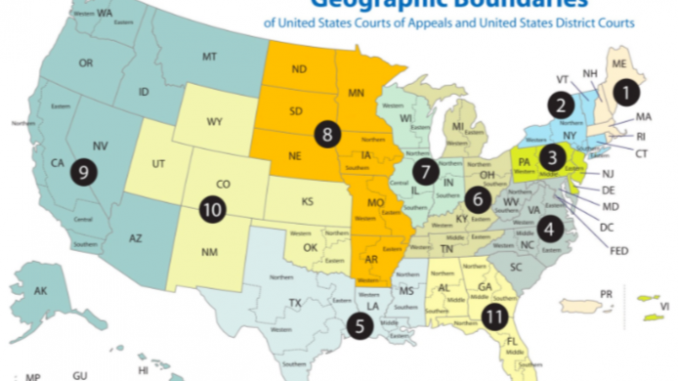 On Thursday, the House Committee on the Judiciary Subcommittee on Courts, Intellectual Property and the Internet held a hearing to consider possibly splitting the 9th Circuit.
From Daily Caller:
The subcommittee's chairman, Republican Rep. Darrell Issa, said the court has become too unwieldy to operate efficiently. At 12,000 cases, the court hears twice as many appeals as the next largest circuit court per year. The court also has the largest geographic jurisdiction in the country, running as far north as the Arctic Circle and as far south as Arizona's Grand Canyon. Fully one-fifth of the country's population sits in the 9th Circuit. As such, the court's massive docket generates lengthy turnaround times in decisions and can make access to the courts challenging for average citizens.
Democrats naturally believe this is a move to split the court up because of its liberal nature.
"Like clockwork we see proposals to split the 9th Circuit whenever it hands down decisions with which conservatives disagree," said Democratic Rep. Jerry Nadler.
"The 9th Circuit has long been in the sights of Republican politicians," he added.
Democratic Rep. John Conyers of Michigan was more circumspect.
"I will not speculate why there has been such an interest among my conservative colleagues about splitting the 9th Circuit," he said.
But a similar decision was made about the 5th Circuit, a more conservative court, when it too became overly large.
The sprawling 5th U.S. Circuit Court of Appeals was split into two appeals courts in 1981 over similar concerns. Alabama, Georgia, and Florida were removed from the 5th Circuit and reestablished as the 11th U.S. Circuit Court of Appeals. Issa pointed out that the legislation was adopted quickly in both houses of Congress with unanimous consent.  READ MORE