Statistician and financial analyst Dr. Jim Willie has been saying for years that the future of sovereign currencies would be one where there are two separate forms of money… an international trade currency which is backed by gold, and a domestic currency that is both devalued and dedicated for internal use.
The methodology on how this would take place is as yet to be determined, but on June 15 the largest bank in Japan may be writing the blueprint of such a two-tier currency system as they are now experimenting with a crypto-currency they hope would compare one to one with the Yen.
Bank of Tokyo-Mitsubishi UFJ confirmed on Tuesday it is conducting experiments using its own digital currency, Reuters reported.

Last week Japan's Asahi Shimbun newspaper said the bank plans releasing its virtual currency as soon as autumn 2017. According to the newspaper, the conversion rate of one MUFG [Mitsubishi UFJ Financial Group – Ed.] coin will be equal to one Japanese yen. Users will be able to withdraw money from their bank accounts into an app on their smartphones. The money will then be converted to the digital currency.

"Regarding the speculation (in) media reports, these reports are not based on any announcement by MUFG, and the details have not been decided," the bank's spokesman said, responding to a query from Reuters.

"However we can only say that it's true that MUFG is conducting demonstration experiments on the 'Coin' within the company utilizing block chain technology," he added.

The bank is also developing ATMs for customers to withdraw MUFG coins onto their smartphones or convert the virtual currency into cash, the Japanese newspaper said. The new machines could be in operation by spring 2018. - Russia Today
The idea of nations having two currencies, one for international use and one for domestic use is not out of the realm of possibilities.  In fact, with the use of electronic money already consuming over 80% of all financial transactions here in 2016, and central banks mulling over the idea of getting rid of physical cash altogether, transitioning domestically into a form of crypto-currency would not only provide central banks greater control over monetary policies, but would also give them absolute control over capital and consumer expenditures.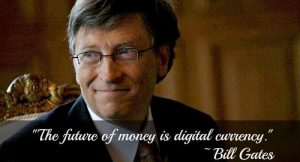 The world's first crypto-currency (Bitcoin) was created to ensure that money would be taken out of the hands of governments and central banks, and that restrictions on its use would not be interrupted because of political expediency.  And over the past four years of Bitcoin's emergence, these same governments have gone through the cycle of ignoring it, vilifying it, attempting to tax it, and now finally with Japan looking to create one on equal footing with the Yen, seeking to usurp it.
Kenneth Schortgen Jr is a writer for Secretsofthefed.com, Examiner.com,Roguemoney.net, and To the Death Media, and hosts the popular web blog, The Daily Economist. Ken can also be heard Wednesday afternoons giving an weekly economic report on the Angel Clark radio show.