Saturday the 16th of January was officially D-Day for the collapsing oil markets as it is now the time for Iran to enter in with its sanction held supplies, and prepared coming production.  And if the world economy thought Friday's $29 oil was bad for markets, just wait for what the introduction of Iranian supplies does for these markets going forward.
For nearly a decade, economic sanctions against Iran had financially locked the OPEC nation in bondage, and required them to sell small amounts of oil through the 'black market' channels in Turkey we now know as the oil for gold scheme.  But since the U.S. decided to suddenly shift gears over the past few months in attempting to collapse Iran's economy, the Islamic power has prepared for today with huge offerings of oil that are expected to create even greater chaos in an already saturated market.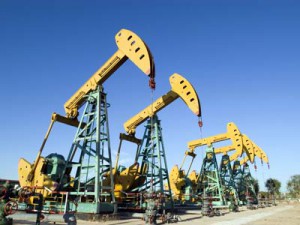 On Saturday, Iran marked what President Hassan Rouhani called a "golden page" in the country's history when the IAEA ruled that Tehran had stuck to its commitments under last year's nuclear accord.

With sanctions lifted, Iran will now have access to some $100 billion in frozen funds and will be able to increase its oil revenue exponentially even as prices remain suppressed.

It's easy to see why the Saudis and other Gulf Sunni monarchies are nervous. Iran plans to immediately boost output by 500,000 b/d with an additional 500,000 b/d coming online by year end. "The oil ministry, by ordering companies to boost production and oil terminals to be ready, kicked off today the plan to increase Iran's crude exports by 500,000 barrels," the official Islamic Republic News Agency reported on Sunday, citing Amir Hossein Zamaninia, deputy oil minister for commerce and international affairs.

"Iran could haul in more than five times as much cash from oil sales by year-end as the lifting of economic sanctions frees the OPEC member to boost crude exports and attract foreign investment needed to rebuild its energy industry," Bloomberg reports, adding that "the lifting of sanctions means Iran can immediately boost oil revenue to about $2.35 billion a month, based on the country's estimated current output of 2.7 million barrels a day and oil at $29 a barrel." - Zerohedge
Led by incredible deflation, lower oil prices, and collapsing currencies, the global economy is now back well into recession, with only governments and central banks hanging on to the delusion that everything is ok.  In fact, during President Obama's State of the Union speech on Tuesday, he used that very word (delusional) to label anyone who goes against the oligarchy line that the economy is doing well.
One of the main reasons the U.S. decided to remove economic sanctions against Iran is because of a combination of the rising influence in the region by Russia, and the decline in relations between Washington and the House of Saud.  But in the end the false hopes of a new partnership with Iran will not come to pass, as the Islamic state has a long memory when it comes to reliance on the U.S., and has already made strong headway into forging multiple energy and military agreements with both Russia and China.
Kenneth Schortgen Jr is a writer for Secretsofthefed.com, Examiner.com, Roguemoney.net, and To the Death Media, and hosts the popular web blog, The Daily Economist. Ken can also be heard Wednesday afternoons giving an weekly economic report on the Angel Clark radio show.