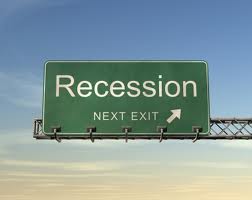 With the major news regarding Deutsche Bank filling up most of the headlines, few probably saw today's data indicators that continue to validate that the U.S. economy is well into its newest recession.
On Oct. 3 reports on severe declines in housing construction, manufacturing, and restaurant volumes show that the American consumer is slowing way down, and is perhaps one of the primary reasons why the Atlanta Fed last week lowered GDP estimates from 3.8% down to 2.4%.
For the first time in 5 years, US construction spending fell YoY in August. The 2nd monthly drop in a row and large downward revisions reduced construction spending to its weakest since 2015. Public construction spending dropped considerably more than private, with highway construction tumbling.

This is the biggest drop in over 5 years. - Zerohedge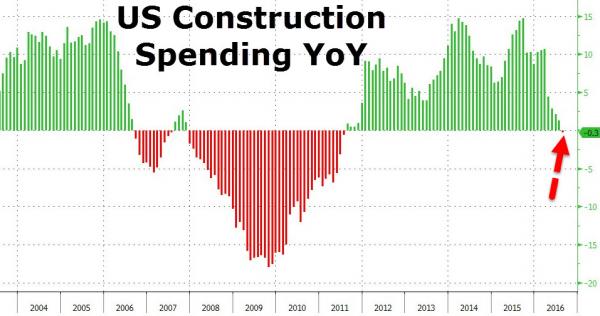 And manufacturing ISM…
Despite the weakest new orders in 9 months, Markit US Manufacturing PMI managed a slightly better than expected 51.5 final print for September (still 3mo lows). Ironically, ISM data bounced perfectly to 51.5 also, after tumbling to 49.4 in August. New orders bounced in ISM data as did production, the opposite of PMI data, but as Market concluded, "Manufacturing growth slowed to a crawl in September, suggesting the economy is stuck in a soft-patch."

Of the 18 manufacturing industries, seven reported growth in September and 11 industries reporting contraction. - Zerohedge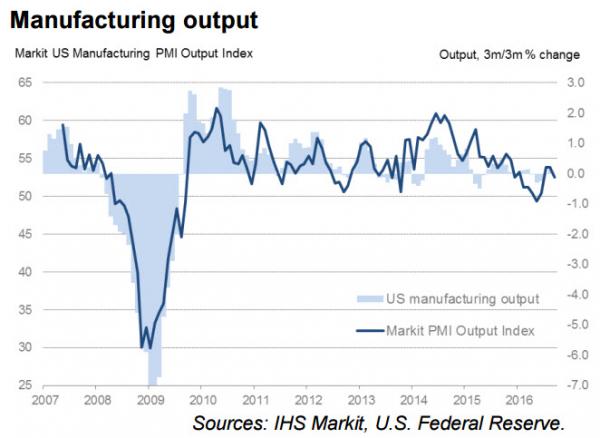 And finally restaurant volumes and bankruptcies…
On October 3, Garden Fresh Restaurant Corp., which owns Souplantation and Sweet Tomatoes, filed for bankruptcy. The company, owned by private-equity firm Sun Capital Partners, said it will close 20 to 30 of its 124 locations and put itself up for sale.

On September 30, Restaurants Acquisitions, the operator of Black-eyed Pea and Dixie House restaurant chains, converted its Chapter 11 filing to Chapter 7 liquidation. The bankruptcy court order noted the company had shuttered its restaurants and management had resigned.

On September 29, Cosi Inc., a fast-casual chain with 1,100 employees filed for bankruptcy. It closed 29 of its 74 company-owned restaurants and laid off 450 people. The 31 independently owned franchise operations continue operating.

Also last week, Logan's Roadhouse, a casual steakhouse with over 200 locations, closed more than 10 restaurants, on top of the locations it had already closed in August when it filed for Chapter 11 bankruptcy. - Wolfstreet
These are just three of the several economic indicators showing not only slowdowns in growth, but in some cases full scale retractions.
The economy as a whole has never recovered from the Great Recession of 2009-10, and has been masked through tens of trillions in stimulus, manipulation of markets, and through the changing of economic reports to make the economy look like it has mostly or fully recovered.  But when Barack Obama ends his term in office in a few months and becomes the only President in history to never have a single year of 3% economic growth during his tenure, those who manage the economic data will eventually lose control of their narratives, and the world will come to realize that there is little that can be done to stop this current downturn.
Kenneth Schortgen Jr is a writer for Secretsofthefed.com, Roguemoney.net, and To the Death Media, and hosts the popular web blog, The Daily Economist. Ken can also be heard Wednesday afternoons giving an weekly economic report on the Angel Clark radio show.