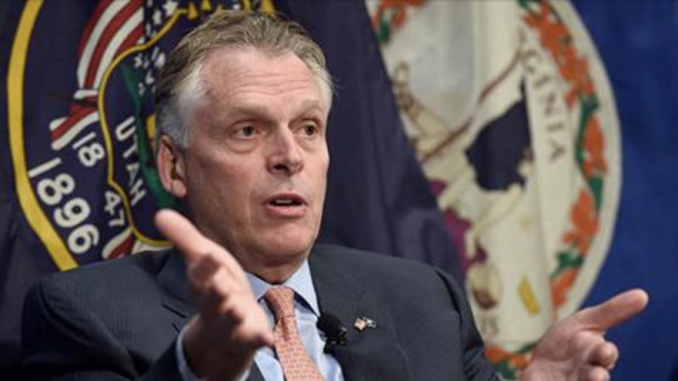 The Washington Times is reporting that Governor Terry McAuliffe spent countless resources to prevent the public from finding out about 5200 illegal aliens that were registered to vote in Virginia!
At least 1,852 of them managed to cast ballots that were likely illegal, though undetected, and were included in statewide elections.
And the liberals continue to scream that it never happens! If McAuliffe hides it… it doesn't exist!
The Washington Times explains:
When Maureen Erickson registered to vote in Prince William County, she listed her home address as a street in Guatemala, in what should have been a very strong indication that she wasn't a regular Virginia resident.


Yet she remained on the voting rolls for years, and even cast ballots in 14 different elections, up through the 2008 presidential contest. She was only purged in 2012, just ahead of the election, after she self-reported as a noncitizen, according to a new report released Tuesday by the Public Interest Legal Foundation.
Ms. Erickson was one of more than 5,500 noncitizens who were registered to vote in Virginia this decade, and were only bumped from the rolls after they admitted to being ineligible. Some 1,852 of them even managed to cast ballots that were likely illegal, though undetected, the PILF, a conservative voter integrity group, said in its report.
Just as troubling, the PILF said, was Virginia's efforts to try to hide the information from the public — a problem foundation President J. Christian Adams said began at the very top, with Gov. Terry McAuliffe.
"At the instruction of McAuliffe political appointees, local election officials spent countless resources to prevent this information from spilling into the open," Mr. Adams said in a statement releasing the report. "From NoVa to Norfolk and all urban and rural points in between, alien voters are casting ballots with practically no legal consequences in response."
The report should give an early sense for the problems that are likely to be turned up by President Trump's new voter integrity commission, which has been charged with getting to the bottom of both the scope of illegal voting and barriers to legal voters casting their ballots.
President Trump has singled Virginia out as a hotbed of massive voter fraud after last year's election. He said that there was "serious" fraud in Virginia, New Hampshire and California.
Virginia says it's trying to tap into Homeland Security databases to try to use them to weed out noncitizens, but says the federal government makes it almost impossible to harness them for the purpose of cleaning up voter rolls.
Kansas Secretary of State Kris Kobach, Vice Chairman of Mr. Trump's new Voter Integrity Commission, said he expects the panel will use those databases to try to figure out the scope of the problem for at least some states.
A large number of noncitizens, as many as 2 million, were illegally registered to vote in the U.S., according to a nationwide poll.
The National Hispanic Survey provides additional evidence for use by anti-voter fraud conservatives and bolsters an analysis by professors at Old Dominion University who say noncitizens registered and voted in potentially large numbers.
The little-noticed Hispanic survey was conducted in June 2013 by McLaughlin and Associates to gauge the opinions of U.S. resident Latinos on a wide range of issues.
Inside the poll is a voter profile of an 800-person sample of adult Latinos in the U.S. A sub-sample of 472 of the 800 Latinos living here but not born in the U.S. were asked questions about citizenship. Of this, 264 said they were noncitizens, and of those, 13 percent said they were registered to vote.
Nothing to see here folks, just keep walking.
Insanity.SOURCE