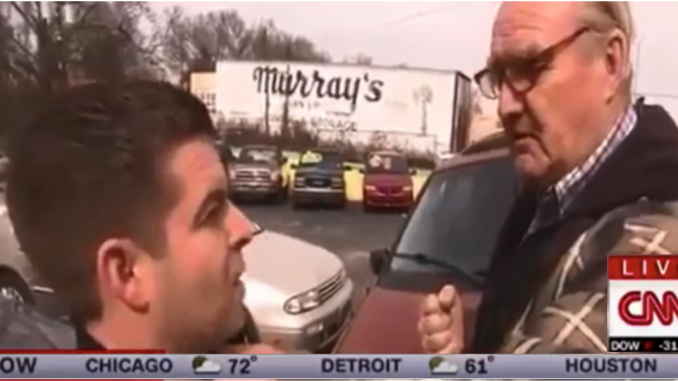 LIBERAL MEDIA REPORTERS HAVE ABSOLUTELY NO DECENCY WHEN IT COMES TO THE SUBJECT THEY ARE GOING AFTER.
RSP| After President Trump posted the infamous tweet of him wrestling "CNN" the media outlet found the creator of the video and blackmailed him into apologizing. But instead of stopping there the liberal media decided to find the creators father and harass him as well. Really mature behavior from CNN and liberal reporters.
Recently a video surfaced of an older man punching a reporter in the face after the reporter harassed him and baited him.  Clearly the reporter was hoping to get hit so the story would be more dramatic. Despicable behavior from the reporter gets him what was deserved.


Via The Gateway Pundit:
President Trump used a meme in a tweet Sunday where the President takes down CNN and gives them a beat down outside a pro wrestling ring.
Over the past few days CNN attempted to find the individual who made the GIF used by the President. They announced that they found the individual and then blackmailed the individual into apologizing for the meme. It was later discovered that the individual may have been a minor.
Currently on the Internet a video is being shared of a reporter stalking a man who was having nothing to do with the reporter. The man did not like the reporter harassing him and so when the reporter attempted to follow the man into his business, the reporter got an unexpected welcome.
Watch Here: