Investors of precious metals can thank the Fed's jawboning, and the bullion bank's manipulation of both gold and silver, to allow for perhaps the greatest bargain ever in a discounted price measured for inflation.  And because of this, the Canadian Mint reported on June 7 that more silver Maple Leaf coins were sold in the first quarter than at any time in their history.
Sales of Canadian bullion hit a new record for Q1 of 2016 by passing out 10.6 million ounces to buyers through the first three months of the year.
Sales of their ever popular Canadian Silver Maple Leaf have surged in Q1 2016. The results are in and a new record has been made! The mint sold a stunning 10.6 million oz, a 27% increase over their strong sales experienced this time last year in Q1 2015. In addition to this, it is well over 1 million oz more than their all-time record seen in Q3 2015.

You may wonder if this is just a one off, yet it is not. Sales of all gold and silver products are up nearly 20% this year over last, indicating that money is truly flowing into precious metals.

This has been a long-term trend that we have talked about on this blog for years. Sales keep making new records among the major mints and physical investors of the precious metals continue to accumulate as prices remain at these artificially depressed levels. – Sprott Money
Sales of both gold and silver bullion have skyrocketed since the beginning of the year, with gold alone being the best performing asset so far in 2016.  And with the Fed at a crossroads on deciding whether to raise or lower interest rates in the face of a declining economy, expectations for the rest of the year appear to forecast a continuation towards an all-time record in the sale of both metals.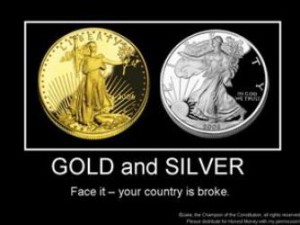 It is very interesting that the Canadian government choose earlier this year to dump the rest of their own gold holdings onto the open market when their citizens are buying precious metals hand over fist.  But the reality is that it will much more important that the people get their hands on some gold and silver before supplies run out, because the next financial crisis will be one of currencies, and the collapse of many monetary systems that run on paper alone.
Kenneth Schortgen Jr is a writer for Secretsofthefed.com, Examiner.com,Roguemoney.net, and To the Death Media, and hosts the popular web blog, The Daily Economist. Ken can also be heard Wednesday afternoons giving an weekly economic report on the Angel Clark radio show.