In November of last year, the government of India attempted to lure their citizens into depositing their physical gold into banks with the enticement of an interest bearing gold savings account.  However, barely a few tons were garnered from the people for this scheme showing that distrust in both the banks and governments to actually protect their gold is quite high.
And now just days after the Canadian government sold off most of its remaining gold reserves, a Canadian physical gold distributor, Canadian Bullion Services, is channeling its inner India and attempting to entice the Canadian people to follow the same path with their own offer of an interest bearing gold savings scheme.
(BOOST) STORAGE ACCOUNT

Canadian Bullion Services is happy to introduce a new service exclusively to our clients. Purchase gold and silver and hold gold and silver in secure storage; and earn interest just by keeping gold and silver in the Boost storage account.

What is The Boost Storage Account?

The Boost Storage Account is a proprietary program developed exclusively by Canadian Bullion Services.  In a nutshell, the program allows investors to:

Purchase gold and silver;
Hold gold and silver in secure storage; and
Earn interest just by keeping gold and silver in the Boost storage account.

Is this a new idea?

We would like to say we thought of it ourselves, but the idea is very popular in the Eastern parts of the world, where governments, banks, and bullion dealers have a variety of storage interest bearing accounts for their hard assets.

Benefits at a glance:

Purchase physical gold and silver for safety and growth.
Have your gold and silver secure in a vault.
Earn interest while your gold and silver is safely in storage.
Get full transparency - receive monthly audited statements.

The Program is right for you if:

You desire the safety of hard assets like bullion but want your bullion working for you;
You wish to participate in the potential growth of the bullion markets (hard assets only, no paper assets);
You would like to receive interest payments while storing your gold and silver;
You believe in a buy-and-hold strategy; and
You want your bullion stored safely and securely.

How does the Boost Program work?

Purchase a minimum of 500 ounces of silver or 10 ounces of gold (does not matter which Mint)***
Store the gold and silver at one of Canadian Bullion Services secure depository vaults.
The Boost accounts are yearly accounts. Interest earned is based on holding time:

Store your bullion for 1 year and earn 2.5%/annum on your bullion*
Store your bullion for 2 years and earn 3.5%/annum on your bullion*
Store your bullion for 3 years and earn 4.5%/annum on your bullion*

At the end of the term you can renew your Boost Program or have your bullion delivered**
Your interest is earned monthly with actual physical bullion.

Well, a quick look at footnote one, and some loud alarm bells should promptly go off:

*Liquidity is at the end of your term only; you may not receive the exact bullion you purchased; the interest will accrue monthly with the purchase of more bullion, any funds remaining will be credited as cash in your account.

At least the company is honest and warns you upfront that the gold you "receive" may not be the exact bullion you purchased, in other words this is nothing but the first incarnation of a bullion dealer rehypothecation scheme. - Zerohedge
While enticing as this offer is for Canadians, just as the people in India have realized today, there is little trust in governments, central banks, or other financial institutions to actually protect the assets of their people, especially in light of legislation passed in nearly all Western nations to allow for bail-ins and asset confiscations in the event of a financial crisis.  And due to the deflationary decline in oil prices, and in light of Canada just selling the majority of their sovereign gold holdings to create liquidity, the potential for a crisis is very real for those living in the Great White North.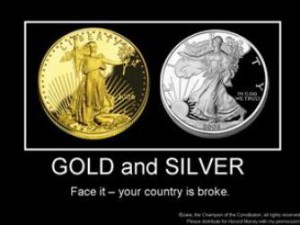 Any true holder of gold and silver will tell you that if you don't hold it in your own hands, or in a trusted vault outside the tentacles of government and banks, then you don't really own it.  And what good is the promise of a few percentage points of interest paid in a devaluing currency (like the Loonie) if chances are good that at the end of the day your gold and silver will be lost forever when its time to be returned?
Kenneth Schortgen Jr is a writer for Secretsofthefed.com, Examiner.com, Roguemoney.net, and To the Death Media, and hosts the popular web blog, The Daily Economist. Ken can also be heard Wednesday afternoons giving an weekly economic report on the Angel Clark radio show.