There is an old saying that outrage and activism only last until it begins to effect one's bottom line.  And with the European Union agreeing to extend U.S. led economic sanctions against Russia and the Crimea until January of next year, the question exists on how long Europe can sustain this political stance, especially as their businesses are expected to lose over $100 billion in export revenues because of counter sanctions imposed by President Vladimir Putin.
In a report on June 19 by the Austrian Institute of Economic Research, lost revenues to EU businesses from past and future sanctions are expected to cascade to over $100 billion, and in the long term may create a future where Russia replaces these exports permanently with food, resources, products, and commodities from elsewhere.
Russia's economic crisis, caused in part by EU sanctions on Moscow over its actions in Ukraine, could cost Europe up to 100 billion euros ($113 billion), German newspaper Die Welt reported Friday, citing a study by the Austrian Institute of Economic Research.

"The fall in exports [to Russia], which we saw in its worst manifestation last autumn, is currently the reality. Unless the situation changes radically, we will face our most pessimistic scenario," Die Welt quoted researcher Oliver Fritz as saying.

The experts attribute the decline in European exports to Russia to the country's economic contraction — exacerbated by EU sanctions and forecast to reach around 3 percent this year — as well as Russia's counter-ban on food imports from the EU, which particularly affected Spain, the Netherlands and Italy.

Russia's crisis could also cost Europe around 2 million jobs, the report said. Germany stands to be affected the worst, with 465,000 jobs potentially lost, followed by Poland with 335,000 jobs under threat, according to the experts' estimates. - Moscow Times
In 2014 when economic sanctions from Europe and the U.S. went into full swing, Russia countered them by banning exports such as food, machinery, and other contracts, and established new import agreements with countries like Iran, Turkey, China, Belarus, Kazakhstan, Switzerland, and Latin America.  In addition, they worked towards improving agricultural production in their own country, and facilitated new programs such as the Eurasian Economic Union and the BRICS bank.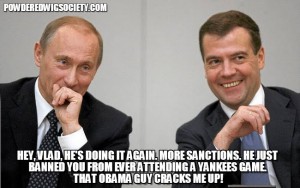 In the end, Europe has much more to lose in the geo-political game of economic sanctions than Russia does.  Almost immediately, China came to the aid of its energy trade partner and backed up the Rouble with assurances and new oil and natural gas contracts.  At the same time, Europe experienced severe economic crisis that has led to many farms and agricultural centers to lay off workers, and businesses have been putting immense pressure on German chancellor Angela Merkel for her alliances with the U.S..
As the EU goes another year standing lock-step with Washington to aggravate Russia with petty sanctions due to the Ukraine conflict, and their geo-political war against the dollar, the likelihood of a crack in Western relations continues to percolate.  And as we are seeing today in Greece, especially after they just signed a new pipeline agreement with Russia on Friday, once a few nations decide to go against the unified front in Europe, the whole coalition will rush back in to try to get what they can from their lost business and exports to Eurasia.
Kenneth Schortgen Jr is a writer for Secretsofthefed.com, Examiner.com, Roguemoney.net, and To the Death Media, and hosts the popular web blog, The Daily Economist. Ken can also be heard Wednesday afternoons giving an weekly economic report on the Angel Clark radio show.