Earlier this year, Saudi Arabia decided to put all their chips on the table for a gambit that they believed would crush foreign oil producers, and allow them to remain at the top of the global oil scheme despite their dwindling supply problems.  However, even with the U.S. fracking industry being decimated by declines in prices, the Saudi's have not been able to crack Russia's hold on production and distribution.  And in what is soon to be a nightmare scenario for the OPEC giant, Iran is within weeks of adding another 500,000 barrels of oil into the markets, creating even greater pressures on prices as the world sinks into a new recession.
Now several months later, Saudi's gambit may have put themselves on the verge of decimation as the Arab Kingdom is experiencing massive budgetary problems that is finding the government unable to pay its debt obligations, and are forcing them to delay payments to contractors.
Saudi Arabia is delaying payments to government contractors as the slump in oil prices pushes the country into a deficit for the first time since 2009, according to three people with knowledge of the matter.

Companies working on infrastructure projects have been waiting six months or more for payments as the government seeks to preserve cash, the people said, asking not to be identified as the information is private. Delays have increased this year and the government has also been seeking to cut prices on contracts, the people said.

Saudi Arabia is tackling the slump in crude, which accounts for about 80 percent of revenue, by tapping foreign reserves, cutting spending and selling bonds. Net foreign assets fell by about $82 billion at the end of August after reaching an all-time high last year. The country has raised 55 billion riyals ($15 billion) from debt issuance this year.

The government is also seeking to cut capital spending and delay projects.

"It's hard to hold back from boosting spending when oil is on the rise, but very hard to cut when oil prices fall," Simon Williams, chief economist for central and eastern Europe, the Middle East and North Africa at HSBC Holdings Plc, said in e-mailed comments. "Cuts are coming — the budget deficit is too large to ignore and pretend it's business as usual." - Bloomberg
The short and medium term expectations for a rebound in oil prices is very unlikely given the financial uncertainty in most global economies.  But what is really at stake for the House of Saud is the fact that rumors of an internal coup between Saudi Princes are surfacing, and poorer citizens within the Muslim population are showing signs of demanding religious reforms and sharing of the nation's oil wealth.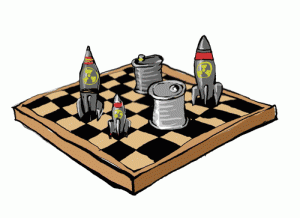 The war against Yemen appears now to be a ploy to both push Saudi's domestic problems onto a foreign bogeyman, and to perhaps get access to oil reserves that may be located off the coast the Arabian Sea.  But as financial problems begin to mount, and revenues no longer can sustain the Saudi Kingdom's control over its people and oil price determination, we may soon see a shift in the balance of power as both Russia and Iran use the Saudi's own gambit against them, and force them to give up their decades long control over OPEC.
Kenneth Schortgen Jr is a writer for Secretsofthefed.com, Examiner.com, Roguemoney.net, and To the Death Media, and hosts the popular web blog, The Daily Economist. Ken can also be heard Wednesday afternoons giving an weekly economic report on the Angel Clark radio show.