One of the stigmas that will forever remain on former President George W. Bush's legacy was his ceding to the banks, and his standing with Hank Paulson to use taxpayer funds to bailout the financial industry after the 2008 credit crisis.  And as we begin to look more into the plethora of Republic candidates vying for the White House in 2016, we find something very interesting regarding the next Bush family member running for office.
When Jeb Bush was governor of Florida during the same time as his brother was ruling over the country from Washington D.C., it has now been revealed that his fingers were also involved in a scheme that provided monies from his constituents to a bank that would eventually be at the heart of the 2008 financial collapse, and which led to the state of Florida losing over $1 billion when Lehman Bros. went kaput.
And for this largesse, Jeb Bush got a lucrative $1.3 million consulting gig as part of the quid pro quo.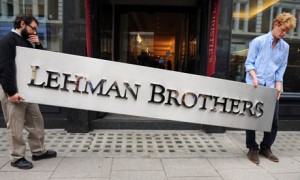 For Florida taxpayers, the move by the administration of then-Gov. Jeb Bush to forge a relationship with Lehman Brothers would ultimately prove disastrous. Transactions in 2005 and 2006 put the Wall Street investment bank in charge of some $250 million worth of pension funds for Florida cops, teachers and firefighters. Lehman would capture more than $5 million in fees on these deals, while gaining additional contracts to manage another $1.2 billion of Florida's money. Then, in the fall of 2008, Lehman collapsed into bankruptcy, leaving Florida facing up to $1 billion in losses.

But for Jeb Bush personally, his enduring relationship with Lehman would prove lucrative. In 2007, just as he left office, Bush secured a job as a Lehman consultant for $1.3 million a year, Bloomberg reported. - IB Times
Ironically, even Jeb's father, George Herbert Walker Bush, was not without his own corrupt financial scheme while in office.
Barrick Gold, caught scrambling for loot amid the corpses in Zaire, is a corporate front for the George Bush-allied covert political apparatus. The Canada-based Barrick is Bush's only known current business enterprise. The company, which Bush now personally leads, was created by Bush's political partners-British elite narcotics financiers, and arms traffickers and money launderers. Using the influence of this political faction, Barrick acquired important interests, first in the United States, then in Canada and South America. In South America, as Barrick boasts in its 1995 annual report, the company has an aggressive, long-term approach, with mines and projects established in strategic locations in Argentina, Chile, Peru, Bolivia, and Brazil. "Almost two-thirds of the exploration and development drilling budget will be spent in South America, where the company has decided to focus its efforts," the annual report states. In addition, with its intended conquests in Indonesia and Africa, the firm now says it aims to move from third to first among the world's largest gold mining companies. - larouchepub
At this point in time, Jeb appears to be lacking in both charisma and momentum to take the top spot in the Republican primaries, and his own speeches appear out of touch with the current wave of anger dedicated towards the onslaught of illegal's coming into the country since the 1990's.  But as we also enter into an environment where the global economy is repeating the sentiment of 2007-08, and where 23 countries are right now in a recessionary spiral, the last thing anyone appears to want is another Bush at the seat of power when the banks come begging to the White House for their next crisis bailout.
Kenneth Schortgen Jr is a writer for Secretsofthefed.com, Examiner.com, Roguemoney.net, and To the Death Media, and hosts the popular web blog, The Daily Economist. Ken can also be heard Wednesday afternoons giving an weekly economic report on the Angel Clark radio show.