Geo-politics is a messy business, and quite often much more complex than domestic politics.  Because when one nation decides to implement a policy that has global ramifications, more often than not innocents can get killed in the crossfire, and the actual goals of the government citing the conflict may exist far beyond those announced publicly.
When the leading head of the OPEC cartel decided to start an energy war by lowering the price of oil to levels not seen since the 1980's, it started a chain reaction that would come to include Russia, the United States, Turkey, Canada, Mexico, and even Iran.  In fact, one could argue that Saudi's oil gambit was the catalyst for forcing the U.S. to settle their decade's long dispute with Iran as a means to put pressure on the Saudi's to come back to Washington's hegemony.
And despite the fact that Saudi Arabia was cutting their own throats in lowering oil prices, on Feb. 25 it appears they have finally taken a major piece from the board as the largest U.S. fracking company in the Bakken region of North Dakota announced they were halting production.
Yesterday, during his speech at CERAWeek in Houston, Saudi oil minister Ali al-Naimi made it explicitly clear that Saudi Arabia would not cut production, instead saying that it is high-cost producers that would need to either "lower costs, borrow cash or liquidate" adding that there is "no need for cuts as marginal barrel will get out of the market." He was right.

Today his wish is slowly coming true after news that North Dakota's largest producer, Whiting Petroleum, would suspend all fracking, and that Continental Resources has effectively done the same after reporting that it no longer has any fracking crews working in the Bakken shale.

As Reuters reports, Whiting said it would "suspend all fracking and spend 80 percent less this year, the biggest cutback to date by a major U.S. shale company reacting to the plunge in crude prices."

It was also confirmation that the Saudi plan to put high-cost producers on ice is working, if only temporarily.

Whiting's cut is one of the largest so far this year in an energy industry crippled by oil prices at 10-year lows. The cuts will have a big impact in North Dakota, where Whiting is the largest producer. - Zerohedge
Problems in U.S. fracking operations however go far beyond simply being unable to make a profit in today's era of low prices.  Most of their original capital and current expenditures are tied to bonds that are now rated as junk, and their inability to keep up with payments to these debts will have catastrophic consequences to many major banks who have lent trillions to subsidize the fracking industry.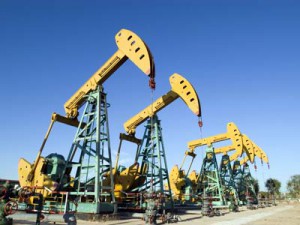 As we are seeing in both Canada and in Mexico, nations that rely too much on being commodity sellers are beholden to both price and demand, and any long term slowdown for the need of these commodities can usher in recession quickly due to the highly leveraged nature of today's financial system.  And with Saudi Arabia still able to produce their oil at extremely low costs compared to most other places in the world, this geo-political war is far from over, and we can expect to see many more 'fatalities' in the coming months.
Kenneth Schortgen Jr is a writer for Secretsofthefed.com, Examiner.com, Roguemoney.net, and To the Death Media, and hosts the popular web blog, The Daily Economist. Ken can also be heard Wednesday afternoons giving an weekly economic report on the Angel Clark radio show.