If you spend any time watching the business channels on cable you find that the litany of analysts they parade across the screen cite the false narrative that consumers (American people) will be the catalyst for economic recovery because they will have more money to spend thanks to lower oil prices that have occurred over the past 18 months.  But despite this fallacy that didn't come to pass, and was validated yesterday in a 1.4% Q4 GDP revision, there is another reason why Americans have not been able to participate wholeheartedly in the economy, and that reason is Obamacare.
The increase in healthcare spending and the Obamacare tax was by far the number one spending item by consumers in 2015, and nearly double the second place item which was new vehicle purchases.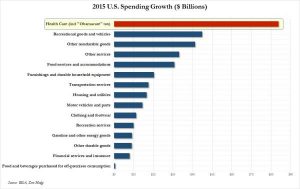 We have been covering the consumption tax, pardon, endless spending black hole that is Obamacare for over a year, so we doubt it will come as a surprise to anyone that in 2015 healthcare was the second biggest use of US consumer funds, soaking up a record $1.9 trillion in real dollars, and more importantly for US economic "growth", the single biggest source of incremental spending by nearly a factor of two.

Incidentally, with spending on healthcare (courtesy of the Supreme Court's Obamacare tax) soaring, while outlays on the traditionally most consumption-intensive category, housing and utilities, going nowhere for the past several years, it is only a matter of 2-3 quarters before Healthcare surpasses Housing as the biggest use of American cash.

Putting this in context, a recent report from Freedom Partners Health found that health insurance premiums have increased faster than wages and inflation in recent years, rising an average of 28 percent from 2009 to 2014 despite the enactment of Obamacare, or rather "because of." Obama signed the Affordable Care Act into law on March 23, 2010, and Wednesday is the law's sixth anniversary. - Zerohedge
The fact of the matter is, the new norm for the economy is growth levels below 2%, and where the government is taking much larger shares of your money through taxes, forced spending habits, and programs which induce higher prices.  And just as wages have not increased by any significance since the late 1970's, but price inflation has been going up by more than 8% per year since 2008, pretty soon the only things most Americans will be able to afford is rent, food, Obamacare, and little else.
Kenneth Schortgen Jr is a writer for Secretsofthefed.com, Examiner.com,Roguemoney.net, and To the Death Media, and hosts the popular web blog, The Daily Economist. Ken can also be heard Wednesday afternoons giving an weekly economic report on the Angel Clark radio show.