As China continues to prepare and expand the Yuan for full internationalization, there is less and less need for them to hold massive amounts of dollars as a reserve for their financial system.  And while the Chinese central bank has rightly chosen not to dump their treasuries onto the market in one massive sale, their slow dissolution of their dollar reserves has the country holding the fewest it has held in almost three years.
In November, China dumped another $87.2 billion in treasuries and t-bills, dropping their overall reserves to $3.44 trillion, which is their lowest level since February of 2013.
China's foreign exchange reserves, the world's largest, fell by $87.2 billion in November to $3.44 trillion, central bank data showed on Monday, the lowest level since February 2013 and the third largest monthly drop on record.

The onshore yuan is down over 3 percent so far this year, and remains under pressure as investors expect US interest rates to be increased for the first time in around a decade later this month.

The fall in foreign exchange reserves was the biggest since a record monthly drop of $93.9 billion in August. China's FX reserves have declined for the last five quarters and posted a record quarterly fall in the third quarter. - China Daily
Over the past two months, China has achieved two major monetary accomplishments that are setting the stage for the Yuan to not only compete head on with the dollar for global supremacy, but to also provide the means for China to function outside of the singular reserve system that requires country's to purchase dollars for most international transactions.  And notwithstanding, their inclusion into the IMF's SDR coupled with four nations opening new Yuan bond hubs provides them the impetus to expand their model of direct bi-lateral trade, and allows the Yuan to grow at the same level as their new Silk Road initiative across Asia and Eurasia.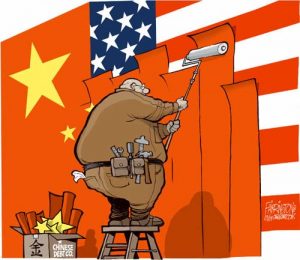 The fact that the Yuan's rise is coming at a time when most of the world is ready to pull away from the 70 year old dollar based system will inevitably allow it to expand and grow much faster than if they were simply fighting for market share in an already saturated currency environment.  And with China having dumped well over $300 billion dollar reserves over the past six months, the interesting thing to watch will be how long until other country's holding dollars will follow suit so that they will not be the last one's holding the bag when dollar hegemony is laid bare.
Kenneth Schortgen Jr is a writer for Secretsofthefed.com, Examiner.com, Roguemoney.net, and To the Death Media, and hosts the popular web blog, The Daily Economist. Ken can also be heard Wednesday afternoons giving an weekly economic report on the Angel Clark radio show.