Perhaps it's time we add euthanasia to the monetary polices of Keynesian ideologues after the 75 year old Finance Minister for the nation of Japan intimated that all the elderly should keel over and die to aid their insolvent economy.
In a speech given recently to prompt the wealthy in Japan to stop saving their money and instead spend it more, Taro Aso referenced watching a television show which featured a 90 year old woman being fearful of the future, and wondered to himself about 'how long she intends to keep on living'.
In 2013, then Deputy PM Taro Aso, 72 years young at the time, suggested that the elderly in Japan should just "hurry up and die" because "You cannot sleep well when you think it's all paid by the government."

Well, the now death-defying 75-year-old finance minister took another swing at the elderly… saying last week that he wondered how much longer a 90-year-old person intends to live.

The outspoken Aso, who is also deputy prime minister, made the comment at a Liberal Democratic Party rally in Otaru, Hokkaido, on Friday, where he said: "I recently saw someone as old as 90 on television, saying how the person was worried about the future. I wondered 'How much longer do you intend to keep living." - Zerohedge
Japan is currently under a negative interest rate policy that is attempting to coerce their people to spend all they have rather than attempt to save it for emergencies or even retirement.  But as with any scheme created that drives people into doing something they do not want to, the backlash has been increased deflation and an escalation of economic decline.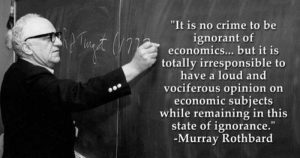 It is amazing how a nation that used to revere its elderly above all in their society has succumbed to the belief that it would be better if those receiving a retirement or government subsidy should end their lives for the good of the economy.  And like the Keynesian doctrines also prevalent in both the U.S. and the EU, one has to wonder how long it will be before the government's there start to advocate a culling of their elderly, since both nations and regional states in each locale are desperately insolvent in their own pension funds, and retirement programs.
Kenneth Schortgen Jr is a writer for Secretsofthefed.com, Examiner.com,Roguemoney.net, and To the Death Media, and hosts the popular web blog, The Daily Economist. Ken can also be heard Wednesday afternoons giving an weekly economic report on the Angel Clark radio show.