The United States has long been a hypocrite when it comes to economic and foreign policies.  They are willing to sanction anyone who exhibits or creates an environment not in line with the empire's whims, but at the same time are more than happy to deal with terrorists, human right abusers, and dictators if it furthers their own financial and political goals.
Case in point.  Back in early 2014, the Obama administration ordered economic sanctions to be placed on Russia as cover for a coup they helped engineer in Ukraine.  And although they implemented these sanctions without the authority and backing of the United Nations, they then coerced the European Union states to follow suit and restrict their dealings with the Eurasian power.
Russia of course countered these unlawful sanctions with trade restrictions of their own on all nations who chose to follow U.S. hegemony on this, and two years later a very interesting dichotomy has emerged from this environment.
That is, the U.S. has overtaken the EU in trade done with Russia, despite the fact that they were the nation who sanctioned Vladimir Putin and Russia to begin with.
While EU members bear the brunt of the "trade war" - sanctions and counter-sanctions have cut the bloc's bilateral trade with Russia by an estimated 100 billion euros ($112 billion) – the US has leapfrogged many of Moscow's former partners to become its No. 5 trading ally outside the former Soviet Union, according to Bloomberg.

"Since leading the push for western penalties on Russia over Ukraine two years ago, the US has leapfrogged Turkey, Japan, Poland and South Korea to become the country's No. 5 trading partner outside the former Soviet Union," says the article on Bloomberg's website.

While European Union members "bear the brunt of the trade war", it adds, US companies led by Boeing Co., Cargill Inc. and Yum! Brands Inc. have been investing for the long-haul and gaining market share. – Sputnik News
Foreign policy appears to only go so far until it begins to interfere with corporation money.
Yet despite two years of brutal counter-sanctions by Russia on the EU, things may quickly be changing as demands by business leaders and finance ministers within Europe are calling for an end of lock-step appeasement to Washington, and are seeking to mend fences through new trade agreements with Russia at this weekend's St. Petersburg International Economic Forum.  And one of the underlying reasons is that while the U.S. and EU wallow in economic stagnation and even serious economic declines, Russia has become one of the strongest economies and is showing economic growth at a time when the rest of the world rushes headlong into recession.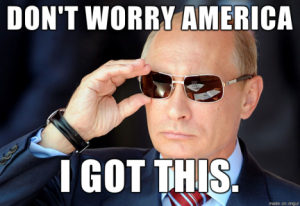 German political scientist Alexander Rahr also pointed out that the anti-Russian sanctions are becoming a growing concern for the European business circles, and that the European politicians are no longer able to ignore the pressure to do away with these punitive measures.

"Europeans should get together and finally determine which principles exactly the sanctions policy is based upon. We need to return to 'realpolitik.' The voice of reason is gradually becoming more and more prevalent in the relations between Russia and the EU," Rahr said. - Sputnik News
As an old American saying goes, money talks, and BS walks.  And when a nation or coalition's own economic and foreign policies end up backfiring on themselves, and cause more good than harm against those they wished to punish, it usually doesn't take too long before they come back to the negotiating table hat in hand, with less leverage than ever to try to get what they desperately need.
Kenneth Schortgen Jr is a writer for Secretsofthefed.com, Examiner.com,Roguemoney.net, and To the Death Media, and hosts the popular web blog, The Daily Economist. Ken can also be heard Wednesday afternoons giving an weekly economic report on the Angel Clark radio show.