As the U.S. spins draconian trade agreements into Orwellian 'free trade' rhetoric, China continues to attract countries from around the world who are no longer enamored by dollar hegemony, and secret deals such as the TPP and TTIP.  And now joining in this conversion from West to East is long-standing U.S. ally Israel, who is finding the political winds of Middle Eastern foreign policy directed squarely against them.
On March 29, Chinese Vice Premier Liu Yangdong announced during a visit to Jerusalem that China and Israel would begin negotiations for new free trade agreements that would boost economic growth for both nations.
Beijing and Tel-Aviv intend to negotiate a free-trade deal that would boost economic performance on both sides. Actual talks are already about to start, Chinese Vice Premier Liu Yangdong announced on Tuesday during her visit to Jerusalem. Israel and China are currently co-hosting the Joint Committee on Innovation Cooperation, and a speculated free-trade agreement would allegedly double the volume of bilateral trade.

After Liu's announcement, Israeli PM Benjamin Netanyahu confirmed the official start of negotiations. Currently, the volume of bilateral trade between China and Israel is roughly $8 bln, and any substantial increase in the volume of goods being shipped would help ease China's problem of factory-gate disinflation, while bolstering Israel's potential for exporting agricultural goods and commodities. - Sputnik News
Perhaps more important that just the future trading of commodities for produced goods is the fact that Israel is expected to compete in the near future as an energy economy following massive oil and natural gas findings off their coastlines.  And with several OPEC nations and long-standing enemies of Israel currently aligned with the U.S. in both oil pricing and denomination, opening the door to China may have foreign policy ramifications as well as potential economic ones going forward.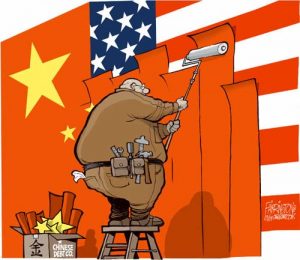 The Obama administration has done great damage to U.S. and Israeli relations during his tenure in office, with Prime Minister Netanyahu even dismissing a recent invitation to visit the White House last month.  And with yesterday's handshake deals for further cooperation with America's strongest economic adversary, the winds are shifting even more Eastward, and solidifying the growing isolation that America is feeling from the rest of the world.
Kenneth Schortgen Jr is a writer for Secretsofthefed.com, Examiner.com,Roguemoney.net, and To the Death Media, and hosts the popular web blog, The Daily Economist. Ken can also be heard Wednesday afternoons giving an weekly economic report on the Angel Clark radio show.