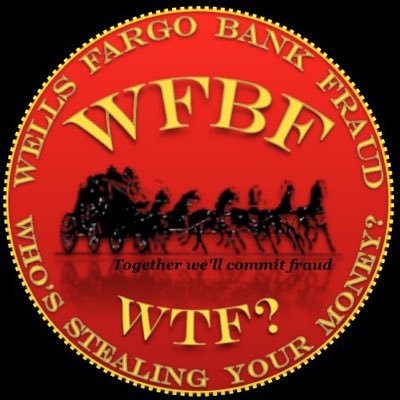 It has not been a good month for Warren Buffet's pet financial institution Wells Fargo.  After first being fined by the Consumer Financial Protection Bureau (CFPB) $185 million for fraudulently creating close to two million unwanted accounts, they then saw their CEO John Stumpf crucified in hearings before both the House and the Senate where legislators called for his head out of either neglect, or outright ignorance.
But sadly the hits just keep on coming as on Sept. 29 the Department of Justice is seeking to sanction Wells Fargo after it was discovered they seized automobiles from active military personnel in the field which is a violation of the Servicemembers Civil Relief Act.
And the hits just keep on coming. The full court press on Wells Fargo continues, on the heels of California's sanctions, Bloomberg reports the bank is now facing a Justice Department sanction over improperly repossessing cars owned by members of the military, according to two people with knowledge of the investigation.

As Bloomberg details, Federal prosecutors and the bank's regulator, the Office of the Comptroller of the Currency, are planning to punish the San Francisco-based lender for alleged violations of the Servicemembers Civil Relief Act, said the people, who asked not to be named because the investigation isn't public. - Zerohedge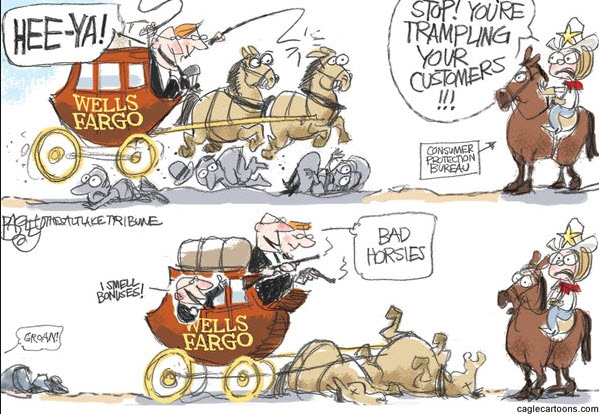 The outright abuse and criminal identity theft of customer accounts by Wells Fargo is the perfect example of why the Department of Justice and other regulators needed to impose criminal indictments on individuals following the mortgage fraud of 2007-08.  In fact, it was because of former Attorney General Eric Holder's malfeasance in office that has led banks to continue to perform extreme criminal activities over the past eight years that include money laundering, aiding and abetting criminal cartels and terrorists, and stealing trillions via the Libor and Forex markets.
Sadly, little will probably happen to Wells Fargo, and even less to the bankers who were either involved in, or ignorant of, the actions performed by lower level staff regarding customer accounts.  But in the end it is not fully the responsibility of lawmakers, judges, or even regulators to punish Wells Fargo, but for consumers to do so with their wallets, and remove much of the impetus for them to leverage in any future transactions or profit making schemes.
Kenneth Schortgen Jr is a writer for Secretsofthefed.com,Roguemoney.net, and To the Death Media, and hosts the popular web blog, The Daily Economist. Ken can also be heard Wednesday afternoons giving an weekly economic report on the Angel Clark radio show.