Even before the DOJ issued a $14 billion fine against the German financial juggernaut known as Deutsche Bank, the institution was already on life support with an estimated $17.5 billion in assets, and a whopping $1.375 trillion in liabilities that do not include over $40 trillion in derivative exposure.  And now in Sept. 24, German Chancellor Angela Merkel announced that the bank cannot expect a taxpayer funded bailout as she and her leading Christian Democratic Party fight for their political lives.
Chancellor Angela Merkel has ruled out any state assistance for Deutsche Bank AG in the year heading into the national election in September 2017, Focus magazine reported, citing unidentified government officials.

The German leader also declined to step into the Frankfurt-based bank's legal imbrogliowith the U.S. Justice Department, which may seek as much as $14 billion in sanctions against Deutsche Bank's mortgage-backed securities business, the magazine said. A German government spokesman declined to comment on the report Saturday. A Deutsche Bank spokeswoman also wouldn't comment.

The finances of Germany's biggest lender, which has lost almost half of its market value this year, are raising concern among German politicians. At a closed session of Social Democratic finance lawmakers this week, Deutsche Bank's woes came up alongside a debate over Basel financial rules, according to two people familiar with the matter. - Bloomberg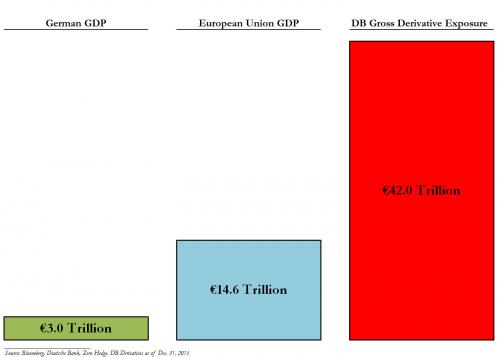 What this means for the third largest bank in Europe, and the top financial institution in the Eurozone's largest economy is that we may be about to see a battle a new battle emerge between the European Central Bank and the German Finance Ministry on who should be responsible for bailing out the insolvent bank.  But with the ECB supposed to perform the duty as the lender of last resort for all banks within the Eurozone, and having a less than stellar track record in dealing with the PIIGS nation's banks over the past eight years, chances are becoming more likely that Germany will have to take the lead and this more than likely means the first depositor bail-in for a major economy could take place.
But even if Germany decides to commit political suicide with a bail-in scheme it will not be enough to stop the hemorrhaging that will require hundreds of billion of dollars in new capital, and perhaps something even more significant to keep their derivatives from triggering due to defaults.
It is very interesting to see the West do virtually nothing to aid Deutsche Bank right now, especially since any real default will result in a massive financial event that will domino across the continent, and even into institutions residing in the United States.  But perhaps leaders on both sides of the pond are just hoping to make it through their respective election cycles because any official bailout or bail-in would be catastrophic to politicians seeking to keep their seats in several different countries.
Kenneth Schortgen Jr is a writer for Secretsofthefed.com,Roguemoney.net, and To the Death Media, and hosts the popular web blog, The Daily Economist. Ken can also be heard Wednesday afternoons giving an weekly economic report on the Angel Clark radio show.