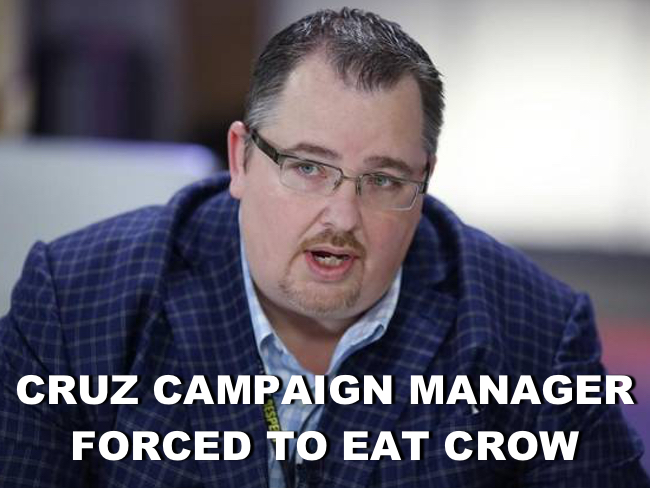 ELDER PATRIOT - Immediately following the Wisconsin primary Ted Cruz's campaign manager Jeff
Roe appeared for an interview on ABC's "Powerhouse Politics" where he threw
down this challenge to Trump, "If he doesn't get over 50 percent, he should probably
consider dropping out, like everyone else has when they don't win their home state in a
dramatic fashion."
Roe was crowing about "a five state run of victories" for Cruz that only existed by
ignoring Donald Trump's overwhelming victory in Arizona. In typical Cruz fashion
the rank and file were only allowed to vote in two of the five states.
Regardless, Trump won New York outperforming the polls by a significant margin.
When the dust had cleared after the NY primary, Cruz's five-state winning streak,
sandwiched by Trump wins in Arizona and NY, Cruz was an additional 30 delegates
and 300,000 votes behind.
Trump's victory in NY was more resounding than Cruz's in Texas. Cruz only gained
a net plus 56 delegates of the 152 that were up for grabs in Texas. Trump's
resounding victory in NY netted him a plus 87 delegates were only 95 delegates
were in play.
The fact is, of the three remaining candidates Ted Cruz performed the worst on his
home turf where the most delegates were there for his taking. Cruz won only 43.8%
of the vote in his home state compared to Trump's 60.4% in his. Compounding the
argument against Cruz was his inability to garner even a single delegate in Ohio or
NY finishing with 13.1% and 14.5% in those states.
Trump followed his trouncing of Cruz in NY with five more overwhelming victories
last night. Cruz's best performances were in Maryland and Pennsylvania where he
came within 35 points of Trump.
Cruz finished the night a distant third in four of the five contests taking home only
one delegate while Trump grabbed 112. Trump's stunning performance in
Pennsylvania will also net him the lion's share of the 54 unbound delegates in
Cleveland.
During Cruz's five-state streak he picked up 134 delegates to Trumps 7. This had his
campaign manager Jeff Roe suggesting Trump should exit the race despite Cruz
trailing Trump by hundreds of delegates at the time.
Six primaries later, when the people actually got to vote, Trump picked up 203
delegates to Cruz's 1.
By his own campaign manager's measure, it's time for Cruz to drop out.