Just like in 2008, the mainstream business media is downplaying the Deutsche Bank crisis as if it were some minor bank problem simply waiting on a government bailout.  But in a new piece of news that came across the wire earlier today, DB is not the only financial institution in trouble within the German banking system, and is setting up the Eurozone's largest economy to have to look towards the ECB and IMF for the same love they fought against regarding Greece back in 2013.
This is because on Sept. 26 Commerzbank announced they are having to layoff 9,000 workers, or 18% of their workforce due to declining revenues, and negative interest rates.
While the market's attention has been transfixed by the latest crash in the stock of Europe's biggest bank, now that concerns about Deutsche Bank's $2 trillion balance sheet have violently resurfaced, it is worth recalling that Germany's "other" mega bank, DB's smaller rival, Commerzbank, whose balance sheet is hardly looking much healthier, is planning to cut around 9,000 jobs over the coming years as Germany's second biggest lender pushes ahead with a restructuring plan, Handelsblatt reported earlier today, citing unnamed sources in the finance industry.

The round of layoffs would eliminate a massive 18% of the bank's entire workforce. - Zerohedge
European Central Bank head Mario Draghi pretty much implied earlier this month that the ECB was completely out of ammunition and any real workable solutions to deal with the deflation and ongoing liquidity issues affecting European banks.  And by October the EU's central bank will have run out of sovereign and corporate bonds to scoop up as part of their ongoing program of quantitative easing.  This means that Europe's 'lender of last resort' will be hard pressed to find the money to support any real form of bank bailout for either Deutsche Bank, or Commerzbank should it come to that.
And more importantly, what other bank will be willing or able to snap up DB's massive balance sheet like no one was able to eight years ago with Lehman Brothers?
It has already been an abysmal day for Germany's biggest lender: overnight Deutsche Bank plunged to fresh all time lows on speculation whether the German government would or wouldn't provide state aid to the bank (if needed), forcing the bank to state it does not need the funds at the same time as the government urged markets that "you can't compare" Deutsche Bank and that "other" bank, Lehman Brothers, although looking at the chart, one may beg to differ. - Zerohedge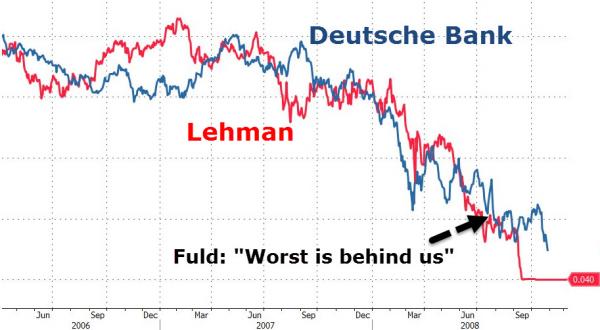 The world must remember that when both Bear Stearns and Lehman Bros disappeared forever eight years ago, it came swiftly and without very much notice.  And while it is unlikely Germany will allow its two biggest banks to simply implode and take down the entire European banking system, as of now they are both one great hot potato, with neither the German government, nor the European Central Bank willing to touch them with a 10-foot pole.
Kenneth Schortgen Jr is a writer for Secretsofthefed.com,Roguemoney.net, and To the Death Media, and hosts the popular web blog, The Daily Economist. Ken can also be heard Wednesday afternoons giving an weekly economic report on the Angel Clark radio show.